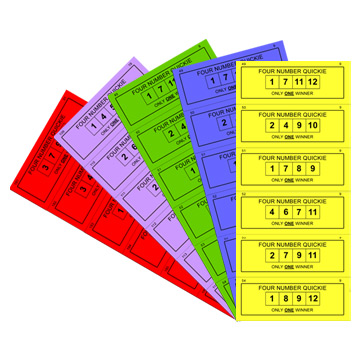 There are four numbers per ticket numbered 1 to 12, with 6 perforated, easy to tear tickets per page.
The first person to get all 4 numbers wins.
Players do not have to be bingo participants from your main game.

Contains:
1 Pack contains 5 sets.
There are 80 strips of 6 to View tickets per colour.
There are 480 different tickets, per colour with their own number.
Each pack has its own security number which is printed on the back of each ticket.

Please note when selling your tickets, bear in mind you need to start at the lowest number first, and stick to one colour.
Length: 96mm
Height: 35mm
Number of Units
Unit Price
Total Price
10 units
10 x 1 unit = 10 Quickie 4's
£19.90


£23.88 inc VAT

£199.00


£238.80 inc VAT
Easter Opening Hours Please be aware that we will be shut this Friday (19/04/2019) and Monday (22/04/2019) due to t… https://t.co/cWKmmVth4B

2 months, 1 week ago

Get ready for your Summer Events today Summer is just around the corner so why not stock up on all your event supp… https://t.co/2eVqjKjFM8

2 months, 3 weeks ago

@soniashiels72 We've sent you a DM with more details.

2 months, 4 weeks ago