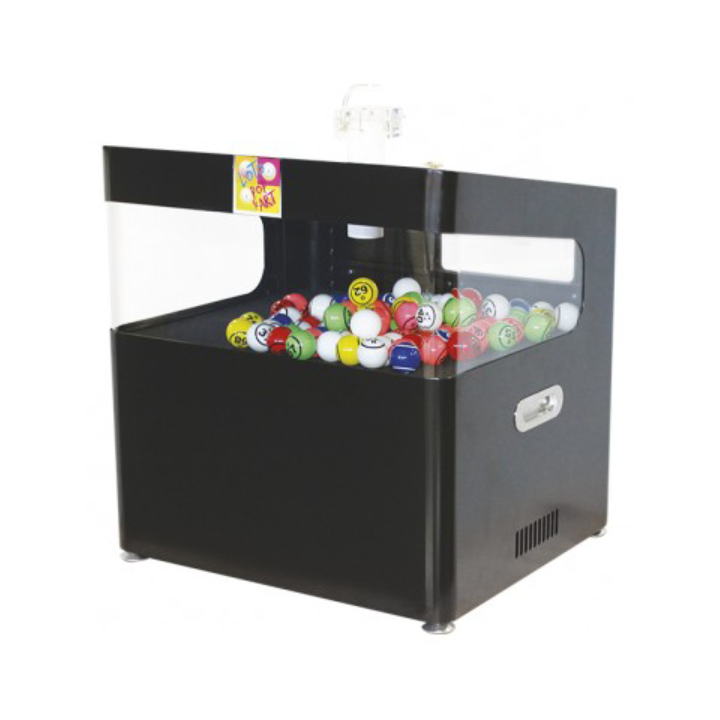 This professional bingo blower is perfect for any bingo club as it's size means it can be easily accessed on any table top.
This Bingo Blower is simple to use as the balls are jumbled around inside the glass cabinet using a torrent of air.
At a push of the button, a randomly selected ball gets caught in the exit pipe and shoots up to the top of the machine.
Once the ball reaches this point, the caller shouts out the number and places the ball onto the correct numbered recess on top of the machine.
When your game has ended, the caller can slide the checkboard, causing the balls on top of the machine to drop effortlessly into the cabinet for next time!
Balls can be removed using the handy sliding door on the back of the machine

This product includes:
Large 38mm bingo balls numbered 1 to 90
Castors to make the unit easy to move.
Built in LEDs help illuminate the balls
Carry case to protect the machine when in transit
Please note this item is not a product we carry stock of. Once you place an order you can expect delivery of the blower in around two weeks.
Height: 49.5cm
Width: 52cm
Length: 43cm
Weight: 19kg
One Week To Bingo Halls Reopen Stock up today on all your bingo essentials ready for May 17th. We have a wide range… https://t.co/zeGFgg6YEE

3 hours, 58 minutes ago

May Bank Holidays 2021 Please be aware we will be shut on 03/05/2021 and 31/05/2021 due to the May Bank Holidays.… https://t.co/XcH46iTYKk

2 weeks ago

40 & 80 Team Football Cards Back In Stock Check out our newly designed 40 & Team Football cards available for purc… https://t.co/zoZh1Lxu7c

3 months, 1 week ago