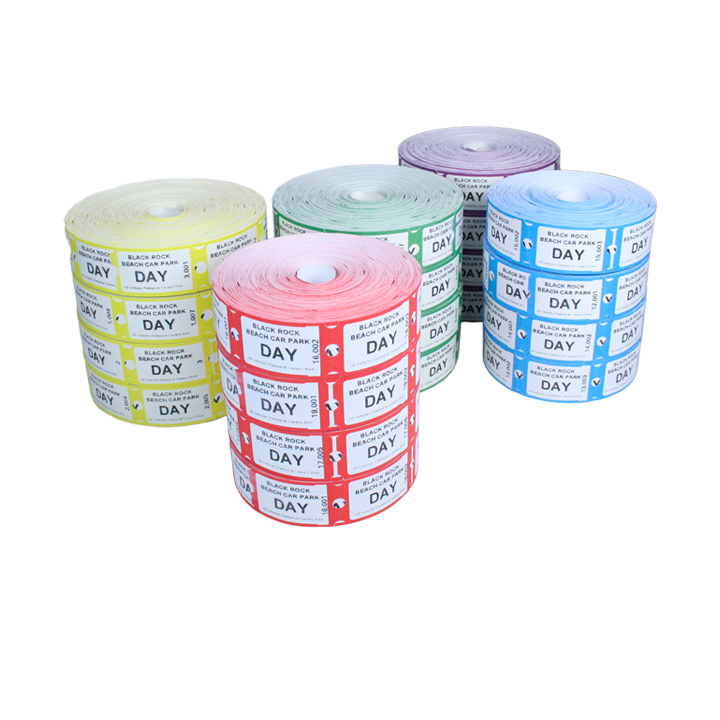 We can digitally print your tickets with any special text, date, name, image, logo, or even barcode onto sequentially numbered tickets, making them unique to you. You can choose the colour borders around the edge of the ticket, but the printing will be in black and white

Typical applications for these tickets range from admission tickets, ½ pint tokens at beer festivals, car park tickets, etc, and they can also be used with our raffle drums and machines.

To design your ticket simply click Customise Product. Here you can input your own text, layout, image, barcode, numbering or colour, and how you want it to appear!

We aim to have the tickets dispatched within 72 working hours from when you email us your order, so please allow up to 7 days to avoid disappointment. However this is not guaranteed so if something is urgent, please contact us prior to placing the order to see if your time scale is possible.

• 1,000 tickets per roll.
• Sequentially numbered tickets.
• Printed on 180gsm paper.
• Each ticket has perforations making them easy to separate.

Various colours of paper available:

• Red
• Blue
• Green
• Yellow

Please Note: Paper colour depends on stock availability.
Once we receive both your payment and your design, we will print your tickets for you.
If you have previously placed an order with us and would like more tickets printed then give us a call on 01992 503311 and we can take your order over the phone.
Number of Units
Unit Price
Total Price
5 units
5 x 1000 units = 5000 Customised Tickets - 1000 per Roll
£7.53


£9.04 inc VAT

£37.65


£45.18 inc VAT

10 units
10 x 1000 units = 10000 Customised Tickets - 1000 per Roll
£4.26


£5.11 inc VAT

£42.60


£51.12 inc VAT

20 units
20 x 1000 units = 20000 Customised Tickets - 1000 per Roll
£4.20


£5.04 inc VAT

£84.00


£100.80 inc VAT

50 units
50 x 1000 units = 50000 Customised Tickets - 1000 per Roll
£3.87


£4.64 inc VAT

£193.50


£232.20 inc VAT

100 units
100 x 1000 units = 100000 Customised Tickets - 1000 per Roll
£3.41


£4.09 inc VAT

£341.00


£409.20 inc VAT